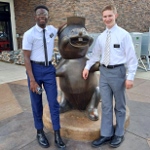 Tuesday was P-day. We got seventeen missionaries in the area together and played wiffleball and kickball. Some of us were going to go roller skating afterwards, but we found out the skating park opened at 5pm. So we went to the church and hung out there. While other missionaries were calling their family, I practiced the organ and took a nap on one of the chapel pews.
Zone conference day, they started getting odd phone calls from other missionaries asking to take pictures w/ a particular elder in their district. They finally found out that one of the zones was doing a scavenger hunt...
More goodies in this week's correspondence:
On the way back from Zone Conference, we stopped by Buc-ees. Not promising anything, but I just might have gotten a couple of Christmas presents for people back home...

Friday evening, we had a multi ward, multi cultural event at the church. The Broadway 1st ward (English) and the Broadway 2nd ward (Spanish) got together and hosted the event. There were probably 150 people packed into a gym that doesn't have working air conditioning. But overall it was fun.

Saturday morning, I, along with about 30 other missionaries from this mission and the Houston mission, went and helped clean up a garden for Habitat for Humanity. We had to take out several garden beds, because they were planning on building a road through there. We shoveled dirt, moved concrete blocks, pulled up landscape fabric, moved concrete blocks, took a break, and moved concrete blocks. The blocks ranged from (guesstimate here) 30 to 70 lbs.

The polution in the city is amazing - it isn't all that bad where we live, a little ways away from downtown downtown, but I've seen Mt. Jefferson from Woolford Mt. at over 100 miles away clearer than I can seen the Houston Skyline from 8 miles away.

And, because September has started, people are putting halloween decorations up once again.