Email 22: Chair Art
Written by Charles Boling - - no comments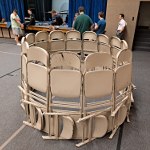 Short email this week; more pictures of things he saw than story. A lot of what he wrote was about transfer day:
On Tuesday, Transfer day, Elder Beyeler and I headed down to Beaumont (about an hour south) to the chapel there. We hung out with some other missionaries there, then after a while, Elder Beyeler with some other missionaries headed over to the Kingwood Chapel where the majority of transfer stuff happens. The rest of us hung out at the church building for a few more hours (pictures included of what I did for part of the time). The chapel organ was conveniently unlocked, so I practiced the organ for a while. Then Elder Cabiness and I headed back to Woodville.
He also shared a couple of humorous things said by an investigator who's a bit whacky.
What happens when Matthew has to wait too long during transfers: