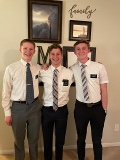 In addition to emailing us in reply to Michele's questions & comments of last week, Matthew called on the telephone and talked to her for 45 minutes.
He's seen the Balls a couple of other times since the first visit, and they sent us a picture of him (shown below) at a fence-building service project.
He noted that the work isn't the best "as far as numbers are concerned, but it's moving along".
Some other highlights:
This week, we went on exchanges with the AP's (Assistant to the President)....Elder Slavens and I stayed in our area with Elder Taylor, while Elder Paul went with Elder Walker to the AP's area.

Every Saturday, we play ultimate frisbee. This last Saturday, the frisbee tried to rip my fingernail off, and someone wearing cleats stomped on my foot. My foot is fine now, but my finger is still a bit tender.

On Sunday, we learned that one of the suits that I brought on my mission formerly belonged to one of my companions!
<chuckle> Most elders never learn to truly appreciate thrift stores until they're on their mission!
It's always nice when his dinner appointments send us greetings and a picture of him. In the age of the Internet, that's done a bit more frequently than when I served...