In the field!
Written by Charles Boling - - no comments

As typical, Matthew left the MTC short on sleep. He got to bed Sunday night around 11:30, but was awakened by farewells for other missionaries -- who were, unfortunately, departing at 2:30 AM.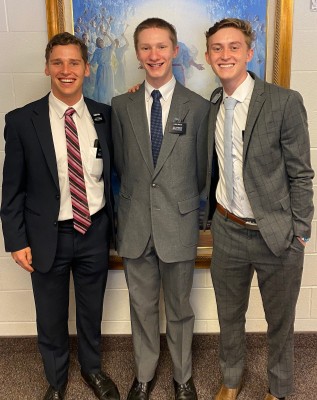 Later in the morning, Matthew and another 25 missionaries took the bus to the train to the 100%-full plane to TX, where they were met at the baggage claim by Pres. Larkin and piled into a couple of vans for the mission home. 33 missionaries is a big incoming group to absorb at one time! Without enough room in the mission home, some, including Matthew, crashed w/ other missionaries.
The next day, after breakfast, he got to meet his new companions. He's in a threesome w/ 2 ZLs, Elders (Jonathan) Paul & (Trenton) Slavens. After casing the town, they went to dinner, where their host sent us a brief report and picture of the handsome fellows.
He's assigned to the Spring Ward, right next to the ward where some friends live, and driving around town brought back memories from our 2019 trip when we visited them. They're in the same (Spring) stake, and meet in the same building, so there's a fair chance that they'll run into each other @ church even if Matthew doesn't visit them at home.