Official Email #11: MTM, a new car, and Covid-19
Written by Charles Boling - - no comments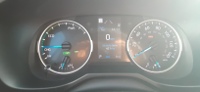 Elder Boling's latest email mostly filled in some details on old news, and told us more about his fascinating companion. Something you should know first:
Their mission produced a musical production called "Meet the Missionaries" that they performed live on tour last year; they also produced a video and accompanying soundtrack album.
Back to his companion:
Due to reasons outside of his control, Elder Pangrel's entry into the mission field was delayed, but in the mean time he gained a lot of experience, maturity, and technical expertice (including some hacking for the FBI). Because of this, he tends to attract special assignments w/ responsibilities and privileges not normally given to missionaries (Alexander's description reminded me a lot of Caleb Hornbeck on his mission, and his assignment as a "technology missionary").
With this production, for example, he was authorized to:
kick the AP's off the computers when he needed them
stay up as late as he wanted (36 hours once)
Use computers/phones without his companion watching his screen
sleep in the car in the church parking lot
He was exausted and stressed, but he still pulled it off really well
Alexander said that the production has added a new set of phrases to mission vernacular, such as "extra ingredients" and "not an angel, a heavenly messenger".
The car:
I thought I understood that two mission areas had traded cars, but no, two areas got new cars. He turned in their 2017 Malibu and received a 2020 AWD hybrid RAV4 with a whopping 36 miles on it. His opinion of it:
I see what people mean when they talk about the smell of a new car. It stinks. It smells to me like melted plastic. Thank you for buying used cars, Mom!

I don't like how it doesn't have a tachometer, because if you rev the engine too high (about 6000 rpm) you get Agressive Driving marked on your driving record. I haven't yet and I don't plan to either.

I like how it get 40 mpg, has more power, and has a lot more room. There are some things I am getting used to in there, such as the brake pedal that is easier to push than the gas pedal. But I like the car.
He concluded by mentioning the virus, the rumors of fights in the stores, and the personal challenges:
It has been fun trying to find ways to prosolyte without leaving the apartment. But I still love my mission!